Cincinnati, OH – B-29 Doc Flight Experience
September 19, 2020

-

September 20, 2020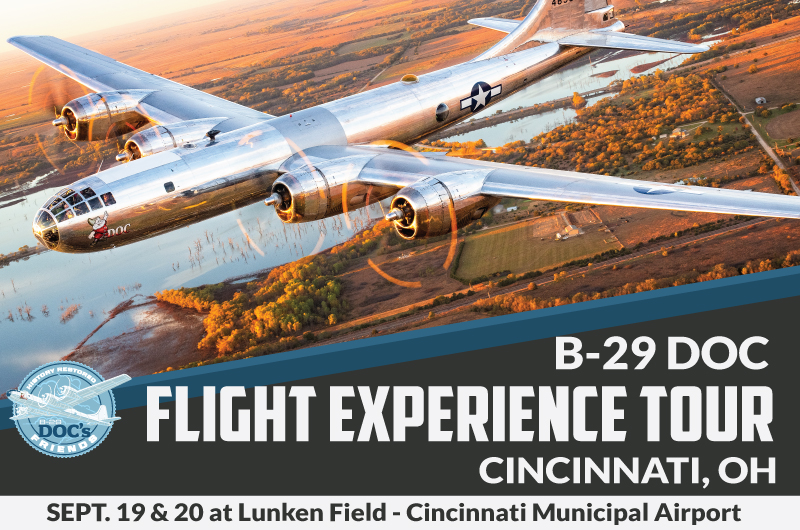 Doc will arrive at Lunken Airport Friday, Sept. 18, and will be available for warbird rides during the two-day event, Saturday, Sept. 19, and Sunday, Sept. 20. The tour stop in Cincinnati will be hosted by Signature Flight Support assisted by individual members of the Cincinnati Warbirds.
The flight schedule for the B-29 Doc Flight Experience rides will be 9 a.m. and 11 a.m., Sept. 19 and 20.  Only persons who have purchased tickets will be admitted to the ramp.  There will be no ground tours or other activities.   For details about the B-29 Doc Flight Experience and to purchase ride tickets, visit www.b29doc.com/rides.
Doc's Friends, Inc., is taking all reasonable precautions to protect the B-29 Doc crew as well as passengers in the fight against the spread of COVID-19.  All B-29 Doc Flight Experience passengers will be required to comply with the CDC and local guidelines, including wearing a mask (one will be provided to each passenger) during the flight. Additionally, the aircraft and all contact surfaces inside the aircraft will be sanitized/disinfected prior to each flight.
Doc is a B-29 Superfortress and one of 1,644 manufactured in Wichita during World War II. It is one of only two remaining B-29s that are still airworthy and flying today.
BOOK YOUR FLIGHT EXPERIENCE TODAY!
Each B-29 Doc Flight Experience will last approximately 90 minutes and include a 30-minute ride. Prior to takeoff, passengers will experience a crew briefing and learn more about the history of the B-29 and role it played in U.S. history. Passengers will also get to hear and see the sights and sounds of engine starts and run-ups prior to takeoff.
Cincinnati, OH: Signature Flight Support South at Lunken Airport