Take a Ride of a Lifetime
Ride in B-29 Doc!
Buy Tickets Online
Fly through the skies in B-29 Doc, a rare World War II bomber! Experience a piece of history 8,000 feet up, as you find yourself where veteran's once sat as they fought for freedom.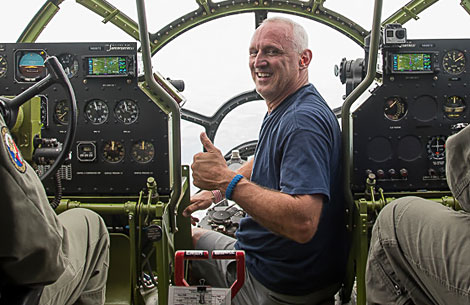 Events & Tour Schedule
Past Events
October 2018
January 2019
Doc's Friends will host a ribbon-cutting celebration and open house Saturday, January 26 at the new 32,000 sq.ft. facility located at Eisenhower National Airport. Doors will open at 9 a.m., Saturday, Jan. 26, for the public to gather and the ribbon-cutting and dedication ceremony will begin at 10 a.m. Following the celebration, Doc's Friends will host an open house from 10 a.m. to 6 p.m., giving the public a first-hand look at the new facility, including Doc cockpit tours and…
Find out more »
April 2019
+ Export Events
View More
Doc is a B-29 Superfortress and one of 1,644 manufactured in Wichita during World War II. Doc was found in 1987 sitting and rotting away in the Mojave Desert. Since then the historic warbird has been restored to flying status, serving as a flying museum.
Learn More